Web Site last Updated - 28/10 /2014 - - - What's New ?
And you, though a wild olive shoot, have been grafted in among the others and now share the nourishing sap from the olive root, Romans 11 v17
The Christian's roots in Israel
shared with the Jews
The "Old Testament" of the Christian Bible is the Jewish Tanakh, and the "New Testament" is built on these Jewish scriptures.
Why do some Christians dislike and ignore the Old Testament ?

Jesus is a Jew. He was born, lived and died as a Jew. He was born King of the Jews and died King of the Jews.
How can some Christians say, "I don't like Jews" ?

Jesus taught as a Jewish Rabbi.
Why do many try and understand his teaching using Greek philosophy?

We are familiar with the Christian holidays.
Why don't we understand the Jewish feasts and holy days that Jesus celebrated ?

God promised the patriarchs of Israel, "He who blesses you, I will bless and he who curses you, I will curse."
Why do so few Christians support Israel and the Jews in informed prayer ?

Jesus is coming back to Jerusalem
How can Christians side with those seeking to destroy Israel and seize Jerusalem?
In these pages we look at what went wrong, the good things we are missing, the way things should be, and how Israel and the Jews are key to world events as they unfold, in these end-times .

This website explores the relationship between Christianity and Judaism (the Jewish faith), including Messianic Judaism. It explains the Jewish roots of Christianity, and the continuity of revelation and worship through Jewish and into Christian scriptures. It looks forward, with the Jews, to the coming of their Messiah and ours. It is possible to span the gulf that opened over the centuries by realizing where we stand. The apostle Paul likened non Jewish Christians to wild olive branches grafted into the cultivated olive tree of Israel. Since this is the basis of our acceptance by the God of Israel, wildolive explores the implications of this relationship.
An understanding of Hebrew and Jewish culture, tradition, faith and worship can add so much to even familiar Bible stories and celebrations.
This was nearly all lost due to replacement theology so we look at all the Jewish Feasts and their relevance and importance for the Christian.
We want to see how much can be recovered, and how we Christians can draw nourishment from our Jewish roots.
The unfolding of God's purposes in World History centres around Israel, Jerusalem and the Jews. The Christian can not afford to ignorantly follow the prevailing world-view of events in the "Middle East" and side with those who oppose God's purposes and the people He chose to bring salvation to the world. We need to understand and act upon "the signs of the times" revealed in Israel, so we look at the politics and media coverage of Israel and the forces ranged against her.
We seek to draw practical conclusions for ways the Christian can be in God's will concerning these matters, and to point the way to the many resources which are available for those who seek to draw from their roots in God's olive tree.
Healing
Awareness of the importance of Israel is not the only thing that much of the church has lost. Healing is an important part of the Gospel that few Christians believe in, having become more sophisticated and educated in the world's wisdom. See also Unbelief.
Getting around wildolive
Please go to Using Wildolive if you are a first time visitor. It explains how to navigate the site and the aims of the site.
Click on the the top page banner of any page to return to this (Home) page. From this page you can access pages from the drop-down menu above the title,
or go to the alphabetical list of pages.
Click on the bottom Page banner of any page to go to the Site Map
Click on the Navigation bar above the page heading of other pages to go to the various sections of the site.
Search wildolive (or the whole web) for key words or phrases
What's New
10/10/14
Please note - Whilst this section is about what is changing, temporary and political, the ministry of wildolive is primarily about the spiritual, eternal truth of the Bible and the Gospel. This news is provided as prayer information for Christians (and Jews) This information is only the latest news and will be displaced from this page.
An anonymous "senior Obama administration" official told The Atlantic correspondent Jeffrey Goldberg that Israeli Prime Minister Benjamin Netanyahu was a "chickenshit."
"Chickenshit?" That's rich, coming from an administration whose fear of Vladimir Putin is the subject of derisory mirth in the Kremlin, and whose cravenness towards Bashar al-Assad's regime in Damascus has directly resulted in the deaths of thousands of innocent Syrians. Blissfully dismissive of their own failings, they round on Netanyahu, a man who served with distinction in his country's elite Sayeret Matkal army unit, by calling him, of all things, a coward!
And that's not the only epithet. As Goldberg pointed out, "Over the years, Obama administration officials have described Netanyahu to me as recalcitrant, myopic, reactionary, obtuse, blustering, pompous, and 'Aspergery.'" (For those unclear as to what that last term means, it's a pejorative description for people with Asperger syndrome, a form of autism, and it's as nasty as calling someone a "retard."
Nations voting for Recognition of Palestine
U.K. Sweden and Ireland so far.
No shortcuts to Middle East peace
Western pressure on Israel and praise for Palestine only delays resolution
The West appears to be losing patience for the Arab-Israeli conflict. Some are looking for shortcuts, including many undoubtedly well-intentioned British members of Parliament who recently called for the recognition of Palestine as a state. At the same time, many in the West are escalating their critical rhetoric against Israel, and regrettably, against Israel alone.
Perhaps this focus is understandable. Israel is rightfully seen (and sees itself) as part of the West, as the only democratic "responsible adult" in the area. The Palestinians are seen as children — guiltless and unaccountable — at once victims of and heirs to the Arab world's tradition of political irresponsibility.
Treating the Palestinians as children, however, is the surest way to perpetuate the conflict, not end it. If there is ever to be a genuine peace between Israelis and Palestinians, both sides must make difficult compromises.
No serious demands are made of the Palestinians, because as "children," expectations of them are low, and they are never taken to task for their misdeeds. When the Palestinian Authority (PA) signs a pact with extremists who reject Israel's very right to exist, we are told that the Palestinian leadership is weak and seeking internal legitimacy. When PA leaders demand a "right of return" clearly incompatible with a negotiated peace, the West refuses to confront them for propagating this maximalist fantasy. When the PA officially turns terrorist killers into Palestinian national heroes, we are told not to undermine their narrative. If the West continues to treat Palestinians as children, giving them a pass on these and other issues, what motivation do they have to grow up?
Extracts from article by Gilad Erdan - a member of Israel's security Cabinet.
Statistics for Anti-Semitism worldwide - from ADL survey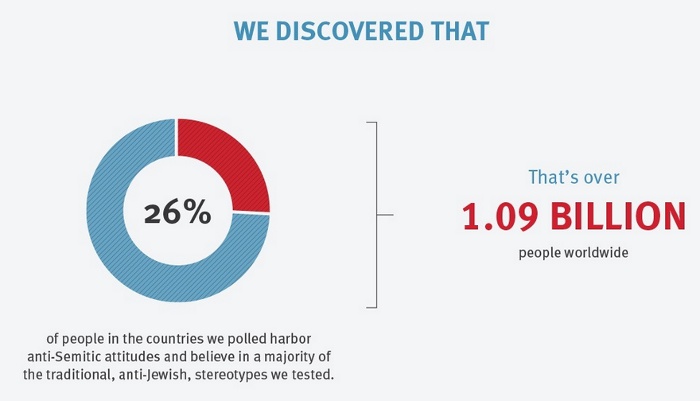 Palestinian leader
Palestinian Authority President Mahmoud Abbas made an impassioned speech on Friday, demanding that Palestinians stop "Jewish settlers" from entering the Temple Mount and otherwise confront the "fierce onslaught on Al-Aksa Mosque, Jerusalem and the Holy Sepulchre Church." He added that "We must prevent them from entering the Noble Sanctuary in any way. This is our Al-Aksa and our church. They have no right to enter and desecrate them. We must confront them and defend our holy sites. Jerusalem has a special flavor and taste not only in our hearts, but also in the hearts of all Arabs and Muslims and Christians. Jerusalem is the eternal capital of the Palestinian state and without it there will be no state."
London Billboard and Public Transport Agencies Reject Pro-Israel Ad Campaign
Gaza
Reviewing the recent conflict in Gaza - Gaza 2014
Israeli PM Binyamin Netanyahu's Speech to the United Nations in September 2014 - transcript
What Gazans say about Hamas (when it is safe to say anything) New Page
Islamic Jihad fighters are digging new tunnels in Gaza and showing them to Al Jazeera reporters
Hamas - Israel Cease Fire
Is this the end of the war, or just a Hudna?
So - who won and who lost? Thought provoking articles - see Gaza 2014
Melanie Philips addressing a Honest Reporting occasion, after the conflict.
Israel is facing threats from Multiple Fronts - new page
In the wider World - Islamic State, Iraq and Syria
Saudi Arabian media reported that Jordan had handed secret intelligence over to the NATO with details about infiltrations of ISIS fighters into Jordanian territory through its borders with Syria and Iraq.
Iran says it has begun arming West Bank ,

To arm West Bank Palestinians for battle against Israel. Militia chief Mohammad Reza Naqdi said the move would lead to Israel's annihilation.
Should we bother about Israel and Gaza - and I.S.?
Does the war in Gaza affect YOU? Why should you care?
Anti-Semitism
The number of anti-Semitic incidents in the UK shot up nearly 500% with Israel's military operation in Gaza. (CST)
Israel's enemies
- attention has strayed from the most important actor in the region, Iran.
Melanie Philips - explains here - - see also Understanding the Times
Islamic State has issued an ultimatum to northern Iraq's dwindling Christian population to either convert to Islam, pay a religious levy or face death, according to a statement distributed in the militant-controlled city of Mosul. The ruling will come into effect on Saturday.
According to various horror scenarios, ISIS will succeed in establishing itself in Jordan or Syria and turn its aggression towards Israel. Experts we spoke with assess that this scenario is not likely. "It is very hard to assess the number of ISIS members, but according to estimates it numbers at between 10 to 15 thousand members."
See Gulf War III ? - See also Persecution
Death Toll in Syria - 200,000
Egypt
The government appears to be in favour of Israel destroying Hamas, for their part in the Muslim Brotherhood's takeover in Egypt. It has been observed that the cease fire deal that Egypt proposed involved a humiliating defeat for Hamas, that they would reject so that Israel could finish the job of destroying Hamas.
Libya
Full scale civil war looks likely. New evidence reveals that jihadi entities, such as al-Qaeda in the Islamic Maghreb and Ansar al-Sharia (ASL), are holding training camps in Libya.
Jordan
Now being threatened by ISIS / ISIL. Jordan has lost control over much of its territory. Western intelligence sources said Jordan has become a hub for rebel operations against the regime of Syrian President Bashar Assad.
Lebanon
Ali Fayyad, a deputy in the Lebanese National Assembly representing the Shi'ite terror militia Hezbollah, told reporters in Beirut that Sunni jihadist groups fighting in neighboring Iraq and Syria are setting up networks inside Lebanon and plan to move the conflict there in the near future.
Other Lebanese analysts have warned that jihadist groups might attempt to infiltrate into Lebanon and fire into Israel from Hezbollah controlled territory in order to provoke the Jewish State into attacking Hezbollah, thus pitting two of the enemies of the Sunni jihadist groups against each other. - ICEJ
Iranian backed Hizbollah are believed to be digging away industriously into Israel, like Hamas did in Gaza. See Melanie Philips article Melanie Philips - explains here
Rockets have been fired into Israel - (Not by Lebanon or Hizbollah; they say). As the Lebanon government does nothing to restrain Hezbollah, Israel has stated that provocative actions will be treated as emanating from Lebanon, and responses will be against Lebanon.
What now?
The long running Roadmaps, the Oslo Accords and Two State solutions all appear stalled, so what must be done now?
What will Israel do? - Is the Two State Solution dead ? - Will Israel consider Caroline Glick's The Israeli Solution ?
This book provides an excellent explanation of how the current situation came about - which will be essential to understanding how the policies might backtrack to an earlier status. (pre Oslo?)
New Pages on wildolive
Saul - Paul - 28/10/14 - Understanding Paul's position and theology for winning the Gentile world.
What Gazans say about Hamas (when it is safe to say anything) - 29/09/14
Gaza's Terror Tunnels - 30/07/14 - the costs and strategy
History of Gaza new page by Ron Cantor - with access to all Gaza pages.
Gulf War III ? - 16/06/14 - Islamic State of Iraq and the Levant
What Now ? - 09/06/14 - The Roadmaps, Oslo and Two State solutions all appear stalled, so what must be done now?
Blood Libel 2014 ? 31/05/14 - the "Nakba Day shooting"
Christ at the Checkpoint 2014 - 21/03/14 - observations
Evangelicals against Israel - 05/03/14 - A worrying, downward trend, analysed by Dexter Van Zile
Assimilation 29/12/13 Is it just a Jewish question?
Updated Pages
Unilateral State - 28/10/14 - Palestinians pushing diplomatic creation of a state
IS War - 16/10/14 - IS rules for journalists
Multiple Fronts - 15/09/14 - Summer 2014 sees threats from all directions
Walls around the World - 30/07/14 - to include the Pale of Settlement
Persecution - 05/07/14 - review of present day persecution plus Biblical view
Two State / One State Solution? - 13/05/14 - New Book recommendation
Revelation - 12/05/14 - New book recommendation
Who are the Palestinians? - 31/03/14 - interesting picture.
My Denomination - BMS - 28/03/14 - More anti-Israel articles in BMS magazine
Islam - 04/03/14 - Somali Piracy and slavery
International Law 03/01/2014 - US and PA in breach over terrorist release pressure
Nuclear Iran 03/01/14
Web Site last Updated - 28/10/14 - Unilateral State
The accuracy of the above figure is not guaranteed due to a change of provider
Up to March 2012 hits were running at around 10,000 per annum
Click the banner below to go to the site map and choose another page -
Or - Click the top banner of any page to return to this Home Page and choose from the drop down menus.

Alphabetical list of pages - - - - Provided in case you know the name of a page but not where it grouped.
911/War on Terror - 2006 War - About us - Abraham's seed - Against Christian Zionism - Ancient Hatred - And Britain? - Angels - Anti-Semitism - Apartheid - Arguing our case - Armageddon - Assimilation - Atonement - Audio-file - Auschwitz - Authority - Babylon - Babylon Candidates - Bad Theologies - Balaam's Error - Baptism - Baptism in the Spirit - Bar Mitzvah - BBC - the Beast? - Before you leave - Beginners Christianity - Beginners Messianic Judaism - Being there - Being There 2 - Bethlehem -The Bible against Israel? - Biblical Christian Zionism - Big Words - Blessing/Cursing - Blessing - Blogs strike Back - Blood Libel - Books - Boycott - Brit Millah - Baptist Times Article - BUGB article - Calendars - Campus against Israel - Christ at the Checkpoint - Christendom - Christian Dates - Christians against Israel - Christian Myths - Christian Palestinianism - Complete Jewish Bible - Counting the Omer - Covenants - Cross Exchange - Cursed? - Dabru Emet - David's Tabernacle - Dear Church - Dear Muslim - Dear World - Demons - Denominations on Israel - Disunity - Dual-Covenant Theology - Durban - End Times - England's History - Ephraimites - Europe - Evangelicals against Israel - Faith - Feasts of the LORD - Firstborn - Follower - Footnote - Galatians - Gap Years - Gaza - Gaza 2012 - Gaza 2014 - Gaza Blockade - Gaza History - Gaza Videos - Genocide - Gilo - Goldstone - Grace & Law - God's Strategy? - Greek or Hebrew - Habakuk on Britain - Haggadah -Halal - Halloween - Har Homa - Hatikvah - Hannukah - Healing - Healing practical - Heaven & Hell - Hebrew - Hereford History - History - Holocaust - Holocaust Denial - Holy Week - Humanism - Individual Christians against Israel - Indoctrination - Info - Instruments - International Law - Internet - Internet Alphabetical - Iran - Islam - Islam denominations - Islam Peace? - Islamophobia ? - Israel against Israel - Israel in Crisis - Israel & the Nations - Israel on the Internet - Jerusalem - Jews & Christians - Jihad - Kingdom - Kosher - Land - Lawfare - Lebanon - Little Mohammed - Lobby - Marketing Evil - Media Bias - Messianic History - Messianic Seal - Messianic Debate - military ethics - Minor Feasts - Mission Israel? - Modern States - Mohammed Cartoons Row - Moslems & Jesus - Multiple Fronts - Munich Movie - My Denomination (BUGB) - My Denomination 2 (BMS) - Names - Name of God - National disasters - Neighbourhood - Netanyahu Speech - New Moon - NGOs - Numbers - Nutshell Gospel - Olive Tree - Olive Branch - Olympic Games - Oslo - Palestinian Charters - Palestinian Christians - Palestinian Lexicon - Palestinian life - Palestinian Refugees - Palestinian noms de guerre - Paradigm shift - Peace? - Persecution - Passover / Pessach - Pray for Peace of Jerusalem - Philosophy - Picture File - Politics - Post Modernism - Prayer - Praying - President Obama - President Obama - a Muslim? - President Obama's 2012 win - President Obama's Friends - President Obama commits - President Obama throws Israel to the wolves - President Obama's Road Map - Post Zionist - Poverty? - Problem Page -The Promise, drama - Propaganda - Protagonists - Public Opinion - Purim - Quotes - Rabbi Jesus - Rapture? - Recommend Us - Replacement Geography - Replacement History - - Revelation - Revival - Righteousness - the Roadmap - Rockets - Roots of Hatred - Rosh Hashanah - Ruth - Sacrifice - Science -Sderot - Settlers - Sexuality - Shabbat / Sabbath - Sharia - Shavuot / Pentecost - Siloam - Site Map - Sizer in Baptist Times - Social Gospel - Stolen Land? - Strategy - Sukkot / Tabernacles - The Temple - Spiritual and Heavenly - Synagogue - Tabernacles Trip - Temple & Tabernacle - the Deal - the Cross - the Cross 1 - The World - The World Turned Upside Down - Too much on antisemitism? - Trinity - Two Jerusalems - the Jews - Threads - Tribes & Nations - the Tribulation - Tu biShvat - Two Jerusalems - Two State Solution? - Until... - United Nations - UN Speeches - Unbelief - Using Wildolive - Violence - weapons against Israel - Wealth - Weddings - What can I do? - Whither the Church? - Who are the Palestinians -Who Hates Israel - Who killed Jesus? - why wildolive? - Wildolive stuff - W.C.C. - World Council of Churches - Yad Vashem - Yeshua Follower - Yom Kippur